Tripping Animals Comedy Night (Thursday)
December 9, 2021 @ 9:00 pm

-

11:00 pm

Free
GET YOUR TICKETS BELOW
Tripping Animals Comedy Night in Doral offers seating reservations, and Buy-One-Get-One-Free Beers when you RSVP.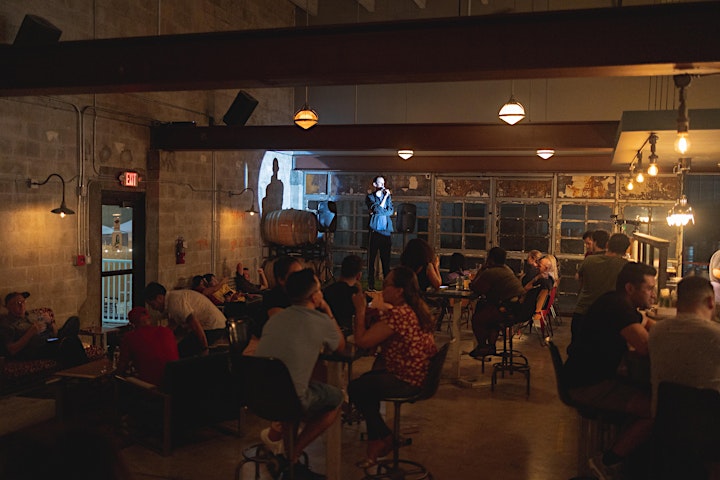 Discover this hidden comedy club in Doral every Thursday at Tripping Animals Brewery 9pm!
Craft Beers Available: try the various refreshing, tasty and creative beers from this local Miami brewery. Drinks menu available here: https://untappd.com/v/tripping-animals-brewing-co/7368591
Food available by Gorilla City Meats and Sandwiches offering bbq eats that you can pair along with your beers. Food menu available here: https://www.gorillacitysandwiches.com/
Great Thursday night out for date night, social get togethers, celebrations, and co-workers!
Local Miami Standup Comedians Showcase with special guest appearances
Live Miami Stand Up Comedy every Thursday in Doral
Doors open 8pm and showtime is 9pm
Ticketing options
1. Save on the bar tab, get the Buy-One-Get-One-Free Drink Wristband! $15 online or $20 at the door. (Select beers)
If you want to cut your drinks tab in half and save money, purchase the Buy-One-Get-One Free Drink Wristband.
Everytime you order select beers, the next one is on us until the end of the show!
2. Get your seats reserved with priority seating! $10 online or $15 the day of.
Guaranteed comfortable seating for you and your guests!
Because of limited seating capacity, we now offer reserved VIP seating for those who RSVP with Priority seating.
Get Priority Seating and BOGO Drinks Wristband for $20.
OR
Get Priority Seating, BOGO Drinks Wristband AND a T Shirt for $35.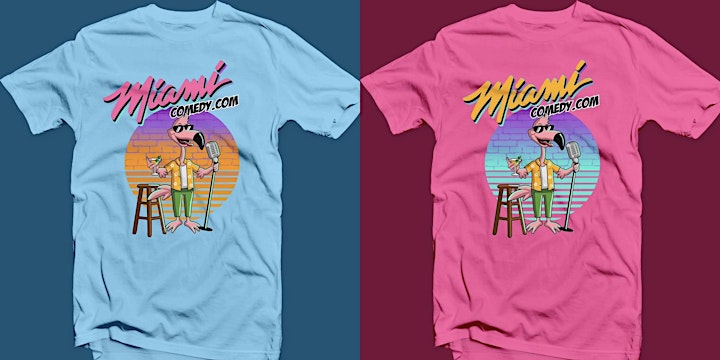 Pictured here is a very handsome flamingo on the mic and having a drink in a vintage Miami Vice 80's look.
Premium Soft, yet heavy cotton and high quality print!
Great to wear on a sunny day or when you attend a comedy show.
Miami Comedy is an ongoing project that lets the locals laugh everyday!
Sizes S – XL available, in Baby Blue or Hot Pink.
Media
Tripping Animals Brewing Co. and Miami Comedy get together to bring you a weekly comedy and beer drinking event. Featuring local working comedians and special guest performances!
After work event in Doral where you can network with the locals, the performers, and enjoy live entertainment.
About Tripping Animals Brewing Co.
The vision of Tripping Animals is to build and nurture a family of creative and passionate individuals all focused on brewing the highest quality craft beer possible by implementing innovative and exciting strategies meant to exceed the expectations of what a beer can truly be. In providing a one-of-a-kind taproom experience for patrons, we we inspire a sense of community and connection.
Tripping Animals is an independent, family-owned brewery and we want that energy to be the soul of the brewery.
We hope you find a little piece of heaven here with us, and eventually, you'll call it home too.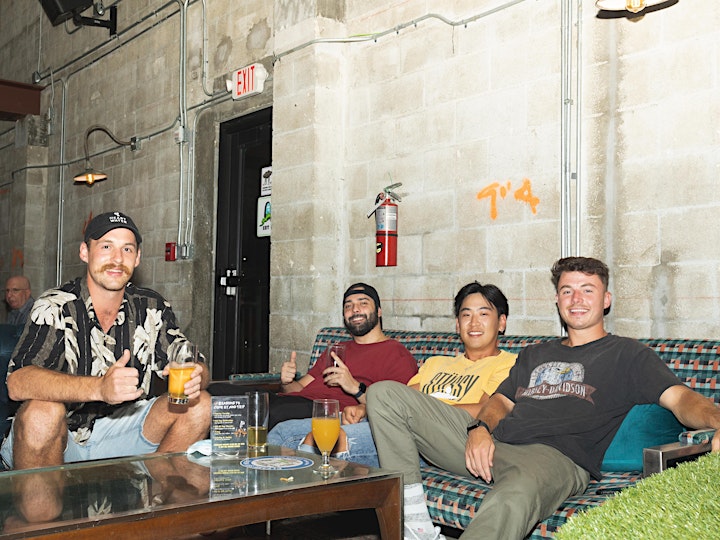 About Miami Comedy
MiamiComedy.com has produced independent comedy events for years. Over time we've built a platform where you can laugh everyday in Miami! We present to you authentic local and national performers and curate entertaining live shows for locals who love to laugh and enjoy the true art of stand up comedy. As seen on Amazon Prime Video "Respect the Light" the Miami New Times, Culture Crusaders, the Miami Improv and UNATION. We create unforgettably funny pop up shows all over the Magic City, in all your favorite bars, restaurants, lounges, theaters and virtual! We make each experience unique with its own environment, line up, drinking, social groups and dining menus!
Questions? Special Occasions? Event Planning? Birthdays?
Get in contact with me here:
Email: manny@miamicomedy.com
Chat: miamicomedy.com
Please Call the venue or event organizer before heading there!
Event Categories
Each comedy event on our calendar are different! Look for the "event category" info on each event.
Pro Show: Professional and touring stand up comedians coming to Miami on a show with a large production company.
Virtual: This show will be live, but in digital format! Join us online with the comedy community for a virtual comedy show at the comfort of your own home!
Showcase: Experienced stand up comedians are selected to perform.
Open Mic: Anything goes! Up and coming stand up comedians hit the stage and try out their material.
Improvisation: Unique variety show where improv troupes come up with comedy sketches on the stage with audience participation.