Laughing Sessions Wednesday Comedy Night at SLS Brickell
November 1 @ 8:30 pm

-

10:30 pm

Free
GET YOUR TICKETS BELOW
The Lounge at SLS Brickell Hotel hosts Laughing Sessions every Wednesday. 50% off ALL bottles during showtime. $50 minimum spend per person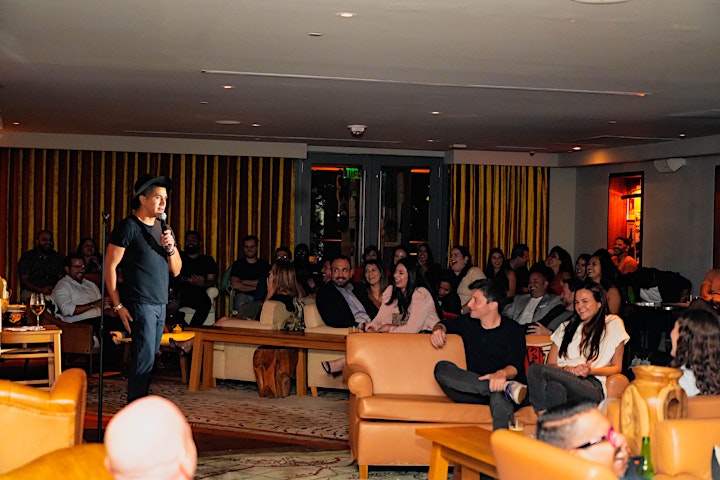 Wednesday Night Comedy Club in The Lounge at SLS Brickell.
Join us every Wednesday for a night of laughter and luxury at The Lounge at SLS Brickell. Featuring local Miami standup comedy showcases with weekly special guest appearances.
Doors Open 8pm, Show starts promptly at 9pm!
Full Bar Available: beers, wine, premium cocktails and prix fixe bites available.
Enjoy 50% off The Lounge's full wine & spirits bottle list for table service along with curated craft cocktails and delicious lite bites in an intimate space with cozy seating and an outdoor terrace with a fireplace.
Lounge couch seating, dim lighting, and posh atmosphere suitable for laughs during the midweek!
Doors open at 8PM, Showtime 9PM
Great Wednesday night out for date night, social get togethers, celebrations, and co-workers!
Local Miami Standup Comedians Showcase with special guest appearances.
Live Miami Stand Up Comedy every Wednesday in Brickell.
*All lounge seating requires a minimum spend of $50++ per guest.
Looking for a Promo Code?
For exclusive discounts to all our comedy shows, text "MIAMI" to 772-774-3432
OR
Join our monthly $20 membership to get a promo code for a free ticket to all our events + a drink ticket / BOGO wristband, and a free T shirt from our merch store! Enroll here: https://miamicomedy.com/membership
50% off ALL bottles at The Lounge including premium spirits and wine.
Bottle menu: https://book.ennismore.com/nightlife/thelounge/brickell/menu#menu=bottle-menu
Wine bottle menu: https://book.ennismore.com/restaurants/filia/sls-brickell/menu#menu=wine
Light Dining available at the Lounge
Review dining menu here: https://book.ennismore.com/nightlife/thelounge/brickell/menu#menu=lite-bites
Ticketing options
1. VIP Seating on the couches at the Lounge
Sit comfortably at the Lounge couch seating area during showtime. Ideal for date nights, groups, birthday parties and those looking to dine with us!
These seats are guaranteed and reserved for you and your guests.
All lounge seating offers 50% off ALL bottles during showtime! Including premium spirits and wine!
Please note: there is a $50 minimum spend per attendee in the seated lounge area.
Ticket packages
Get VIP Lounge Seating AND a T Shirt for $40.
OR
Get VIP Lounge Seating, T Shirt AND a Miami Comedy Snapback Cap for $75.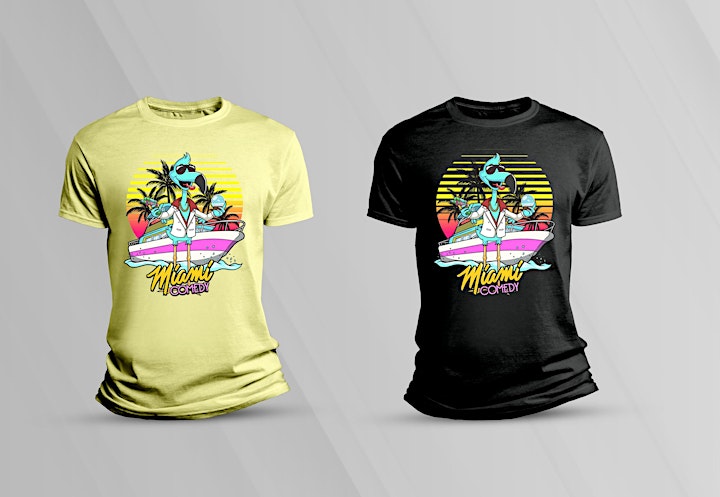 Show off your sense of humor Miami style…
Pictured here is a very handsome flamingo in a vintage Miami look.
Premium Soft, yet heavy cotton and high quality print!
Great to wear on a sunny day or when you attend a comedy show.
Sizes S – XL available.
This is an NFT design! Own a piece of history of comedy in Miami.
You can view our collection here: https://opensea.io/collection/flamboyantflamingoflock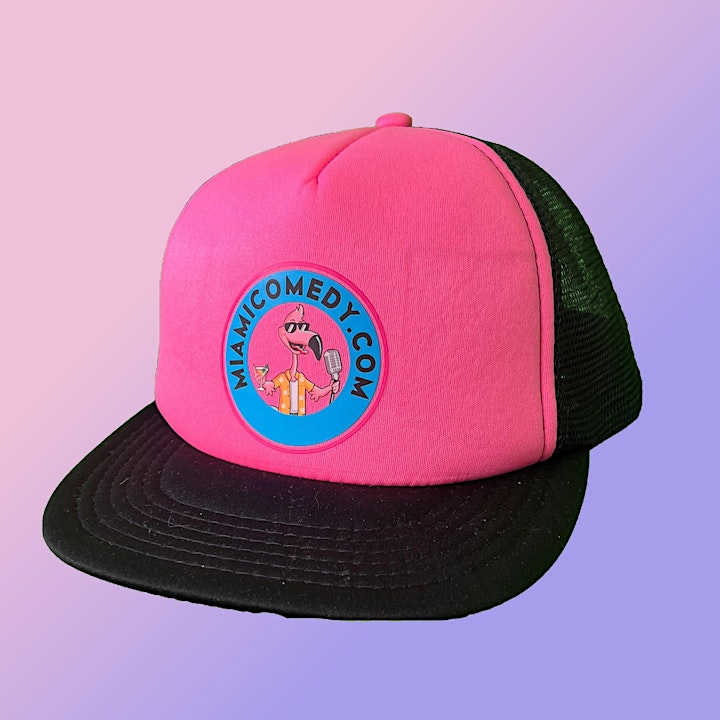 Snapback hats are now here!
Pictured here are premium hat suitable to get some shade on a sunny Miami day.
Matches well with Miami colors.
Quality stitching / printing and made in limited quantity.
Part of our NFT merch collection, once they sell out we will design a new color scheme.
Get yours today!
Suits well with just about any wardrobe you have, giving it an original flair for local comedy fans.
One size fits all!
Add On Exclusive Miami Comedy Merch for $30
For $30 you can add these EXCLUSIVE T shirts for you to pick up at the show. High quality collection of humorous designs, screen printed on high quality pre-shrunk fabric, lightweight and perfect to wear in Miami weather. Turn heads, and make them laugh!
"Funny Looking Never Looked So Good!"
Available in sizes S – XL.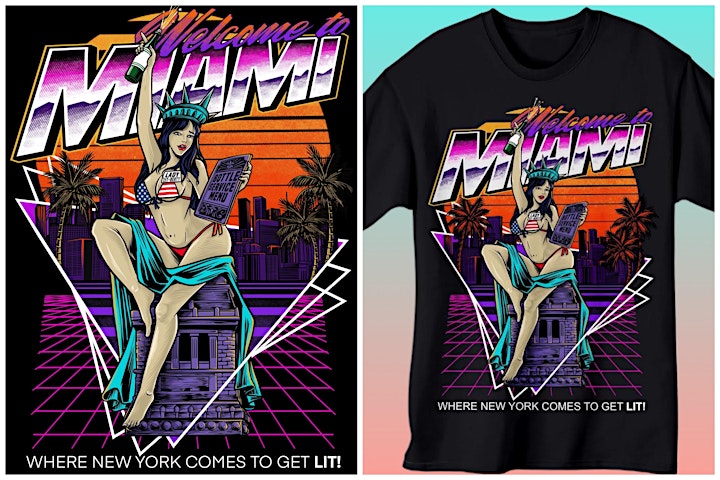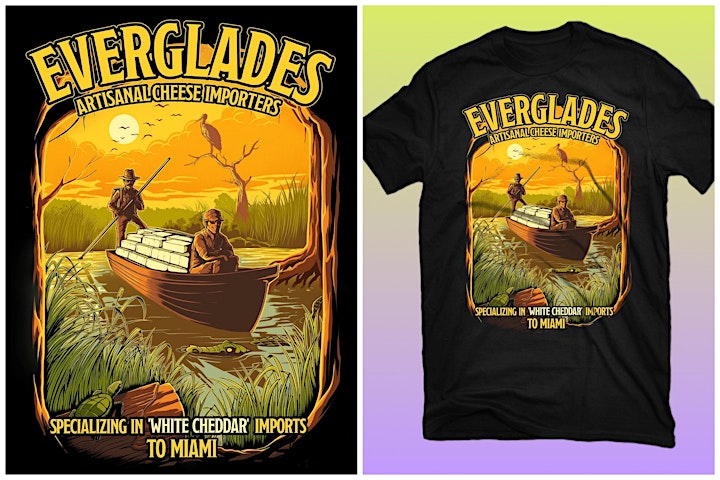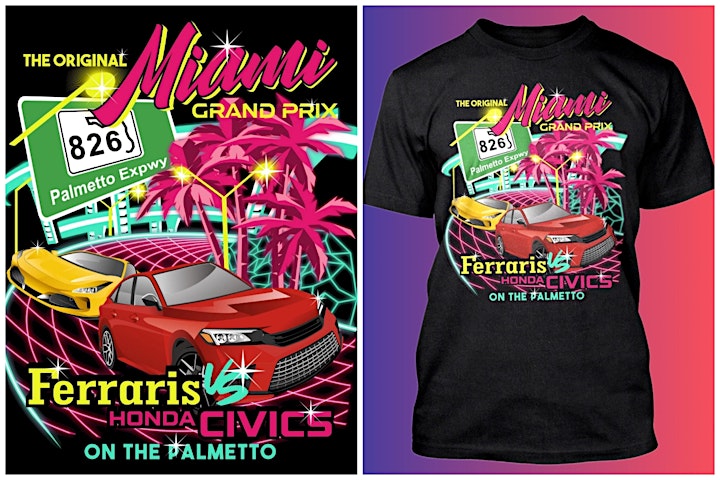 Media
SLS Brickell Hotel, and Miami Comedy get together to bring you a weekly comedy and drink event. Featuring local working comedians and special guest performances!
About The Lounge at the SLS Brickell Hotel
To learn more about The Lounge at SLS Brickell, view menus and more visit The Lounge at SLS Brickell | Miami Nightlife | SLS Brickell (ennismore.com).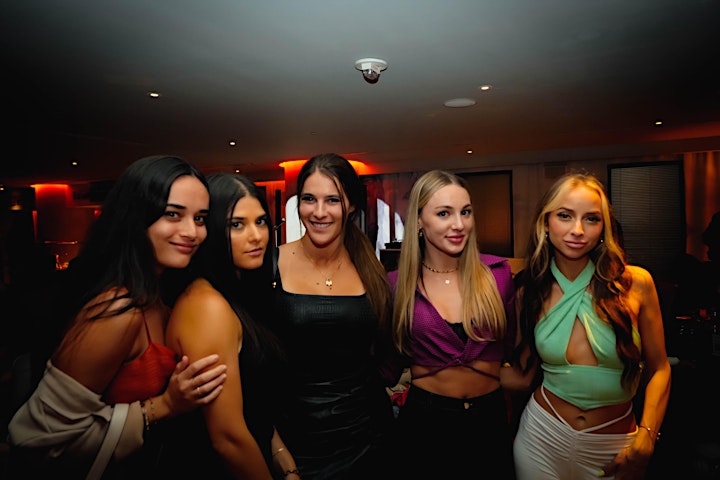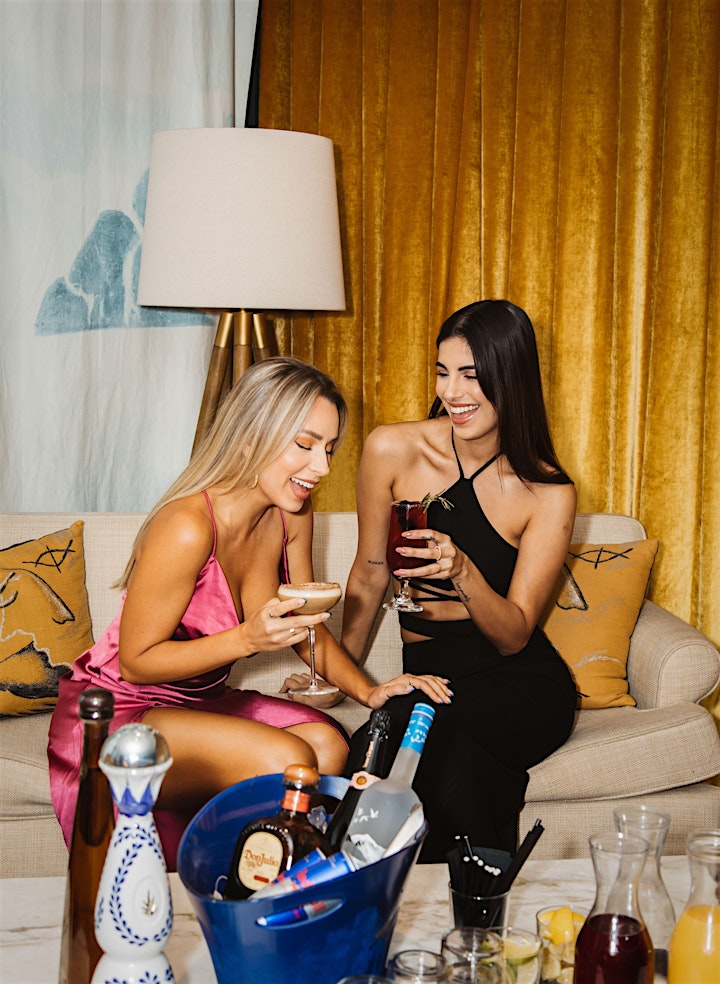 About Miami Comedy
MiamiComedy.com has produced independent comedy events for years. Over time we've built a platform where you can laugh everyday in Miami! We present to you authentic local and national performers and curate entertaining live shows for locals who love to laugh and enjoy the true art of stand up comedy. As seen on Amazon Prime Video "Respect the Light" the Miami New Times, Culture Crusaders, the Miami Improv and UNATION. We create unforgettably funny pop up shows all over the Magic City, in all your favorite bars, restaurants, lounges, theaters and virtual! We make each experience unique with its own environment, line up, drinking, social groups and dining menus!
Questions? Special Occasions? Event Planning? Birthdays?
Get in contact with me here:
Text: 786-610-5571
Email: manny@miamicomedy.com
Chat: miamicomedy.com
Please Call the venue or event organizer before heading there!
Event Categories
Each comedy event on our calendar are different! Look for the "event category" info on each event.
Pro Show: Professional and touring stand up comedians coming to Miami on a show with a large production company.
Virtual: This show will be live, but in digital format! Join us online with the comedy community for a virtual comedy show at the comfort of your own home!
Showcase: Experienced stand up comedians are selected to perform.
Open Mic: Anything goes! Up and coming stand up comedians hit the stage and try out their material.
Improvisation: Unique variety show where improv troupes come up with comedy sketches on the stage with audience participation.