Wednesday Night Live | Miami Improv
February 12 @ 8:00 pm

-

10:00 pm
GET YOUR TICKETS BELOW
Wednesday Night Live is where you can see nationally touring stand up comedians in Miami on their night off, and during your midweek.
Make your seating reservations early to save money on tickets!
Right before Valentines Day; Wednesday February 12th 8PM (Doors Open at 7:30)
2 drink minimum during showtime
Purchase your tickets early and save
$10 tickets before Sunday February 9th
$15 tickets before Wednesday February 12th
$25 day of the show (February 12th)
$30 at the door (February 12th 8pm)
This show is growing to be the most exclusive comedy show right on time for Valentines Day.
Gather round your friends, family, and relatives to receive all the LOL's good times we're about to have at the Miami Improv!
Wednesday Night Live is all about bringing you laughs with live entertainment in a drinking and dining experience.
Your host Kyle Grooms selects a very special variety show of hilarious comedians from Miami, NY, LA, Chicago, ATL and more!
About Kyle Grooms:
Kyle has proven to be one of the industry's must-see comics on the scene.
He's had his own Half-Hour special on Comedy Central, Made an appearance as "Lyle" in film "I Feel Pretty!" starring Amy Schumer, and has made multiple appearances on VH1, NBC , BET and famed "Chappelle's Show."
With his many accomplishments as an comedian,actor, and writer ,
A regular on the New York comedy scene, Grooms has performed at several top clubs, including Caroline's, Comic Strip, Comedy Cellar and Gotham. He has been featured on several television, radio and internet broadcasts, such as P-Diddy's "Bad Boys of Comedy," Jamie Foxx's "Laffapalooza," "Tough Crowd with Colin Quinn," "The Byron Allen Show," "BET Comic View," and "Red Carpet Fashion." Having even brought his act overseas, he performed at the " Grande Journal" in France and has made several appearances in national TV ad campaigns for companies including T-Mobile, Sears, Career Builders and Holiday Inn Express. Grooms continues to grow as a stand-up comedian, writer and actor, and can currently be seen performing worldwide.
Headliner Will E Robo
Energetic, charismatic, versatile and animated are just a few words that describe Will E.
stand-up routines. He is a universal comedian, with an overflow of energy, combining his
story-telling abilities with vividly humorous gestures and amazing sound effects that can
paint a clear picture in our heads.
He is also notoriously known for his impressions of animals, entertainers, and other characters. 
Will E. already has an impressive television resume under his belt. He made numerous
appearances on The Apollo, winning six times as an amateur. He also appeared twice
on both BET's Comic View and Russell Simmons Def Comedy Jam. He has also made
memorable appearances on P. Diddy's Bad Boys of Comedy, in 2005 and 2007.
His stand-up acts have also been viewed on Jenny Jones and a many other events. In 2008,
he is also slated to feature in Martin Lawrence's First Amendment Stand-Up. 
Aside from television, Will E. has made audiences laugh all across the country. And
around the world to performing for the Armed Forces, Will E. As a result of his
performances, he received the Flip Wilson Award for Best Original Act.
Purchase your tickets today!

About Miami Comedy
MiamiComedy.com has produced independent comedy events for years. Often imitated, but never duplicated. We are the original Miami Comedy production company finding authentic performers and curate entertaining live shows for people who love to laugh it up and enjoy the true art of stand up comedy in Miami. As seen on Amazon Prime Video "Respect the Light" the Miami New Times, Culture Crusaders, the Miami Improv and UNATION. We do pop up shows all over the Magic City, in all your favorite bars, restaurants, lounges and theaters! We make each experience unique with its own environment, drinking and dining menus!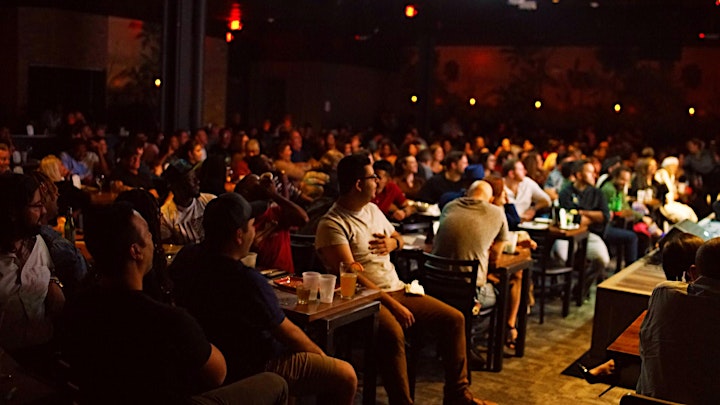 About Miami Improv
Located at the Doral City Place Plaza, the Miami Improv is the city's only comedy club theater. Presenting locals celebrity comedian appearances in a large seating venue and offering attendees a full drinking and dining menu to elevate your laughing experience!
Questions? Special Occasions?
Get them answered here:
Email: manny@miamicomedy.com
Phone / SMS / Text: 305-498-7739
Chat: miamicomedy.com
Please Call the venue or event organizer before heading there!
Event Categories
Each comedy event on our calendar are different! Look for the "event category" info on each event.
Pro Show: Professional and touring stand up comedians coming to Miami on a show with a large production company.
Virtual: This show will be live, but in digital format! Join us online with the comedy community for a virtual comedy show at the comfort of your own home!
Showcase: Experienced stand up comedians are selected to perform.
Open Mic: Anything goes! Up and coming stand up comedians hit the stage and try out their material.
Improvisation: Unique variety show where improv troupes come up with comedy sketches on the stage with audience participation.