Focal Brewery Comedy Night (Wednesday)
October 27, 2021 @ 8:00 pm

-

11:00 pm

Free
GET YOUR TICKETS BELOW
Fun show at a new comedy room, located just 10 min from Wynwood offering FREE ADMISSIONS, and Buy-One-Get-One-Free Mayami Blonde beers.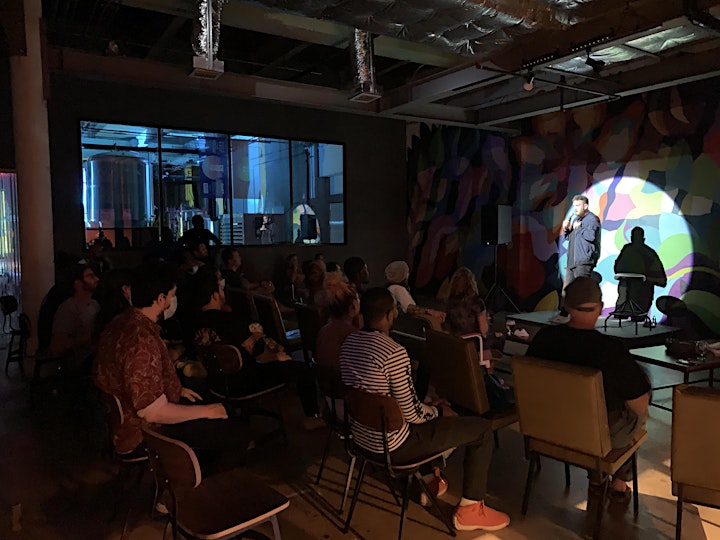 Come and discover an awesome comedy club at the Focal Brewing Company, every Wednesday at 8pm!
Great night out for date night, social get togethers, celebrations, and co-workers!
Miami Standup Comedians Showcase with special guest appearances
Refreshing Craft Beers Available: get a taste of some creative beers brewed in-house. All beer types available in a large tap selection. Menu available here: https://focalbeercafe.square.site/
Rotating food trucks stopping by to satisfy your appetite. Enjoy delicious eats by some of Miami's most popular chef owned food trucks.
Want some stage time and you have a fun story to tell? Open Mic after the show
Want the best seats in the house?
Because of limited seating capacity, we now offer priority seating for those who purchase RSVP seats in advance.
Get comfortable with that special someone and make it a night out to remember, priority seating includes couches in the front row.
Purchase priority early to save.
Save on the bar tab, get the Buy-One-Get-One-Free Drink Wristband!
If you want to cut your drinks tab in half and save money, or if you're on a date and want to pay for the price of just one person drinking, purchase the Buy-One-Get-One Free Drink Wristband. Every time you order a Mayami Blonde Beer, the next one is on us until the end of the show!
Save on the Buy-One-Get-One-Free Drink Wristband by purchasing it in advance.
Check Us Out On Media
Focal Brewing Company and Miami Comedy get together to bring you a comedy and drink event. Featuring local working comedians and special guest performances!
About Focal Brewing Company
We have beer like no other, come try our unique handcrafted beers, while enjoying live Art + Music, right next to Wynwood. Focal Beer Café is directed to the irreverent state of mind of those who like to call their workspace a place where they can let loose and still get work done after hours. For those who have the freedom to find that perfect space in which they feel comfortable and focused while holding their favorite beer.

About Miami Comedy
MiamiComedy.com has produced independent comedy events for years. Over time we've built a platform where you can laugh everyday in Miami! We present to you authentic local and national performers and curate entertaining live shows for locals who love to laugh and enjoy the true art of stand up comedy. As seen on Amazon Prime Video "Respect the Light" the Miami New Times, Culture Crusaders, the Miami Improv and UNATION. We create unforgettably funny pop up shows all over the Magic City, in all your favorite bars, restaurants, lounges, theaters and virtual! We make each experience unique with its own environment, line up, drinking, social groups and dining menus!
Questions? Special Occasions? Event Planning? Birthdays?
Get in contact with me here:
Email: manny@miamicomedy.com
Chat: miamicomedy.com
Please Call the venue or event organizer before heading there!
Event Categories
Each comedy event on our calendar are different! Look for the "event category" info on each event.
Pro Show: Professional and touring stand up comedians coming to Miami on a show with a large production company.
Virtual: This show will be live, but in digital format! Join us online with the comedy community for a virtual comedy show at the comfort of your own home!
Showcase: Experienced stand up comedians are selected to perform.
Open Mic: Anything goes! Up and coming stand up comedians hit the stage and try out their material.
Improvisation: Unique variety show where improv troupes come up with comedy sketches on the stage with audience participation.